Letter from Manizha, September 2011
September 14, 2011
Dear WAW Supporters,

As most of you know, yesterday Kabul was under attack. There were multiple rocket launchings all over the city. Several were in Karte Seh where all our Kabul centers are located. One of the rockets fell in front of the building we had moved out of on August 15. If we had been there, we may have lost staff and clients.

Rockets were fired directly at the U.S. Embassy from the roof of a nearby building. According to news reports, three children were killed and dozens severely injured when a rocket hit a school bus taking them home.

Right after the first explosion, we instructed our staff and drivers not to stir out of the office. But WAW Program Manager Huma Safi was speaking on a panel organized by the U.S. Embassy at Babar Gardens near Karte Seh. For four hours she and the panel were stuck there, unable to get to safety. Some of our staff had to go home with colleagues, and we put others up in guest houses because traveling to their own homes wasn't safe.

We have closed our offices today because most roads are still banned to traffic, although according to reports the fighting has stopped and the last of the attackers has been killed.

Once again we are staring at the fact that all 350 WAW staff in Afghanistan and our clients risk their lives every day to advance our mission--the protection of Afghan women and children from human rights abuses. The Taliban have claimed responsibility for the action. You may think their sole motive is to get foreign troops out of the country, but we believe they have far more insidious goals, all of which require that they regain the power they held over Afghanistan before the U.S ousted them ten years ago. We ask our supporters and men and women all over the world who care about the Afghan people not to abandon them to a Taliban fate. Afghans are struggling to advance human rights and democracy in their country and do not want to throw away the significant progress they have made toward those ends.

And we in WAW again pledge that we will devot
e ourselves to our mission no matter what the future holds.




De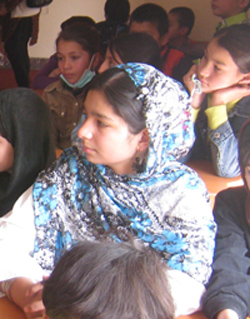 spite this terrible news, I can end this letter on a happy note.
Nelab, a 15-year old girl whose mother has been an inmate of the Kabul women's prison and who

i
s one of the brightest students in our Children's Support Center, has been approved for a visa to the U.S. She will travel here in September and will speak at our

Tenth Anniversary Gala

on Oct. 20th. We hope you can meet this remarkable young person. The attackers who paralyzed the city yesterday must not be allowed to represent the future of Afghanistan. We must preserve that role for Nelab, for all the children of Afghanistan, and for the Afghan women and men who are committe

d to freedom and democracy.


Sincerely,


Manizha Naderi
Executive Director, WAW